Hotel Relais Orologio Pisa
. Book your Pisa luxury hotel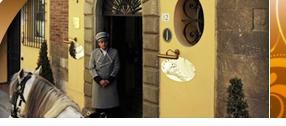 The Relais dell'Orologio is one of the most beautiful and prestigious hotels that Pisa offers, it enjoys an excellent situation at just 100 metres from the Tower of Pisa and the marvellous Piazza dei Miracoli.

The hotel, which is host inside an ancient house of the 14th century, was accurately restored from a staff of architects, who with the modern technologies and a big ability under the control of the Superintendence for the Architectonic Heritage, have preserved all the charm of this historic construction, joining together every modern comfort and giving to the structure elegance, high-class, unique welcoming in accurate different ambiences.

Discover all the comfort of the 21 rooms with a fine and personalized furniture, embellished with accurate and precious decorations that will make you live unforgettable and unique moments. That is not all. The hotel boasts: a marvellous mansard embellished with fireplace, library, perfect ambiences for the long winter evenings in order to meet your friends in front of the fire or to enjoy a relaxing moment. Our garden is the ideal place for romantic dinner by candlelight.

The hotel places at its guests' disposal a splendid restaurant (close on Monday), which offers unique ambiences where you can spend unforgettable moments. Don't forget the appointment: in the summer with our splendid garden with the suffused light of the candles, and in the winter with the mansard heated by the fireplace.
Our atmosphere is unique and we invite you to enjoy it.
The cuisine is made by local flavours, between tradition and refinement, perfect for every kind of palate.
Give us your Feedback
Hotel Relais Orologio, Via della Faggiola 12 - Pisa
PisaHotelsitaly.it
Copyright © 2003 - 2021 | P.IVA# 03458490277